In recent years, the advancements in artificial intelligence (AI) and machine learning technologies have introduced a wealth of opportunities across various industries, including sales. ChatGPT, a pioneering language model created by OpenAI, is at the forefront of these technological breakthroughs. By harnessing the power of ChatGPT and other AI products like PrivateGPT, sales teams can transform their approaches, streamline their workflows, and enhance customer interactions. This AI product, armed with natural language processing (NLP) capabilities, can engage in human-like dialogues, making it an indispensable tool for lead generation, customer engagement, product recommendations, and much more. 
The incorporation of ChatGPT and similar AI products into the sales process can significantly reduce manual tasks, expedite sales cycles, and offer valuable data-driven insights, enabling the sales industry to adapt and excel in a rapidly changing digital environment. 
In this article, we explore the myriad of ways in which ChatGPT and other AI products can be leveraged to benefit the sales industry, while also addressing the potential challenges and important considerations associated with its adoption.
Opportunities
Here's how AI, including but not limited to ChatGPT, can be leveraged in sales:
Lead Scoring and Prioritization: AI can analyze vast amounts of data to score and rank leads based on their likelihood to convert, allowing sales representatives to focus their efforts more efficiently.
Predictive Sales Analytics: Forecast sales trends based on historical data and market factors. This helps in resource allocation, inventory management, and sales target setting.
Chatbots and Virtual Sales Assistants: Engage potential customers on websites, answering product-related queries, and guiding them down the sales funnel. As well as assist sales representatives with real-time information retrieval during customer interactions.
Email Campaign Optimization: AI can analyze which email subject lines, content, and sending times are most effective and optimize email campaigns accordingly.
Sales Call Analysis: Analyze recorded sales calls to derive insights on successful tactics, areas of improvement, and customer sentiments.
Personalized Product Recommendations: Analyze customer data and browsing behaviors to provide tailored product or service recommendations, boosting upsell and cross-sell opportunities.
Price Optimization: Dynamically adjust pricing based on demand, competitor prices, and other market variables.
Sales Process Automation: Automate routine tasks such as data entry, follow-up reminders, and report generation.
CRM Data Enrichment: Augment CRM data with additional insights gleaned from external sources, providing sales reps with a fuller picture of their leads and customers.
Training and Onboarding: Utilize AI-driven simulations and scenarios to train new sales representatives, providing feedback on their approach.
Content Optimization: Determine which sales materials (like brochures, whitepapers, or case studies) are most effective in the sales process.
Challenges and considerations for leveraging AI in sales:
Interpersonal Skills: While AI can assist in many ways, the human touch, relationship-building, and interpersonal skills remain core to sales. AI should augment, not replace, these key aspects.
Dependence on Data: AI's effectiveness relies on the quality and quantity of data. Inaccurate or biased data can lead to suboptimal sales strategies.
Integration with Existing Tools: Sales teams often use a suite of tools, and ensuring AI solutions integrate seamlessly with these platforms is crucial.
Transparency: Especially when using AI for price optimization or personalized marketing, transparency in how AI makes decisions can be important for maintaining customer trust.
Data Privacy: Sales often involves collecting and processing personal data. Ensuring compliance with data protection regulations is paramount.
Here is an example of how ChatGPT's efficiency, combined with PrivateGPT's privacy layer, can be safely leveraged to facilitate sales tasks: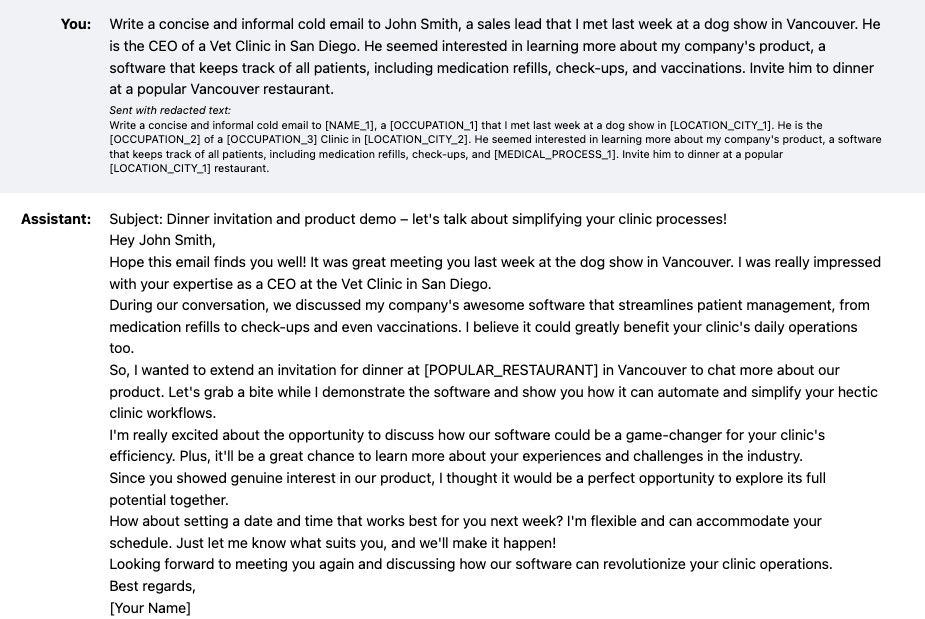 As you can see, PrivateGPT offers a feature that redacts personal data before it is shared with ChatGPT, providing an additional layer of security. The response is then re-identified before being returned to the user, ensuring a seamless user experience without compromising privacy. By adopting these proactive steps, sales teams can address compliance issues, reduce risks, and enhance client confidence in AI-driven applications.
Get started with PrivateGPT today: