ChatGPT took the world by storm, and companies everywhere are leveraging the OpenAI tool to streamline their processes, improve productivity, and enhance customer experience. But how much can we trust LLMs with business data? What are the biggest ChatGPT privacy concerns? How can we leverage the tool while maintaining privacy? We explore the answers. 
Just a little over four months after its launch, ChatGPT broke the record for the fastest-growing user base with over 100 million active users. It's not just the average person that's using the platform. Research shows that 49 percent of companies are currently using ChatGPT for their business needs – and 30 percent more are planning to. 
How Are Businesses Using ChatGPT?
ChatGPT, the Large Language Model (LLM) developed by OpenAI, allows businesses to streamline their operations, increase productivity, and gain a competitive advantage. There are multiple benefits of using ChatGPT in business:
Customer service:

ChatGPT can help businesses automate their customer service functions, reducing response times and improving customer satisfaction. Chatbots can answer frequently asked questions and provide support 24/7, with minimal human intervention.

Sales:

ChatGPT can help businesses automate their sales functions by providing customers with personalized product recommendations and assisting them through the purchasing process.

Marketing:

ChatGPT can help businesses collect data on customer preferences and behaviours, which can then be used to inform marketing campaigns and improve targeting. It can also produce content such as blogs, social media posts, and more. 
What Are ChatGPT Privacy Concerns?
As the saying goes, "With great power comes great responsibility." Or, in this case, "With great use of ChatGPT, comes great privacy concerns." Companies like Walmart, Amazon, and even OpenAI's partner Microsoft warned employees not to enter sensitive information on ChatGPT.  Multiple countries have also expressed concern and have threatened to ban its use entirely.
The main privacy concern with ChatGPT is around the sharing of Personally Identifiable Information (PII). It may seem simple to run through a customer service problem through the tool and get the personalized response you need in a matter of seconds.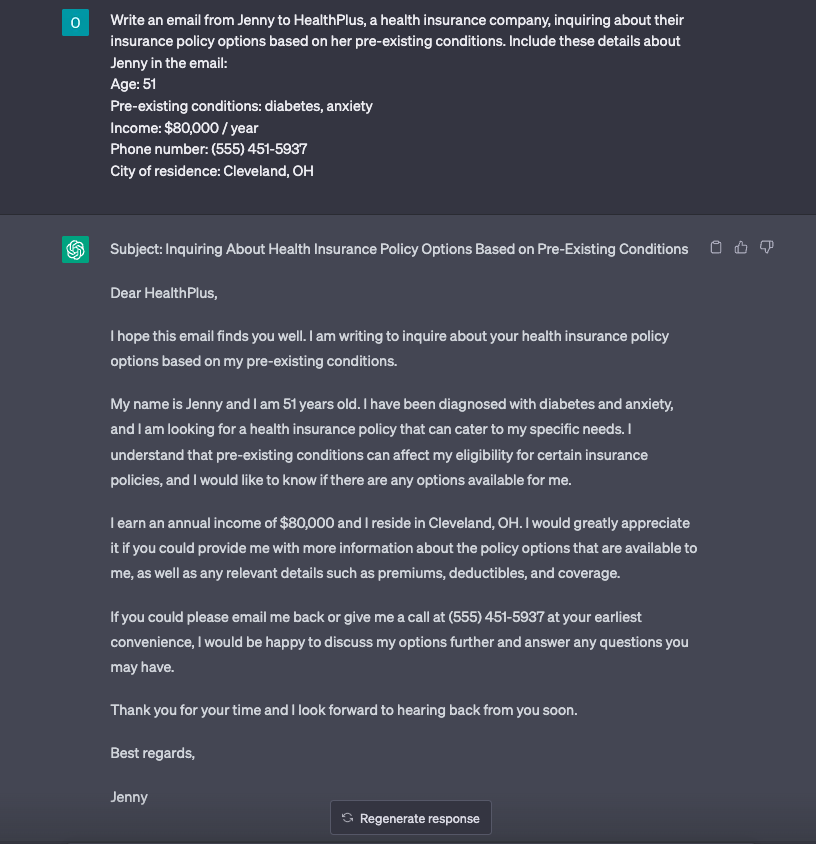 While the output of the request saves employee time and effort by drafting an email response, it also has also exposed PII to OpenAI such as the customer's name, address, and phone number. 
ChatGPT is not excluded from data protection laws like the GDPR, HIPAA, PCI DSS, or the CPPA. The GDPR, for example, requires companies to get consent for all uses of their users' personal data and also comply with requests to be forgotten. These businesses, by sharing personal information with third-party organizations, lose control over how that data is stored and used, putting themselves at serious risk of compliance violations, not to mention security breaches, like the recent bug that released ChatGPT users' chat history.
How to Safely Use ChatGPT:
To ensure businesses are using ChatGPT in a way that is compliant and respects customer privacy, here are some guidelines:
Employee training: This may seem like an obvious step, but a lot of companies fail in giving employees proper data privacy training. Every single person who deals with user data should have formal training about the safe and legal use of said data – and specifically learn about ChatGPT privacy concerns. 
Obtain consent from customers: Businesses should obtain consent from customers before collecting their PII and putting it through ChatGPT. They should also make it clear to customers how their data will be used and ensure that they have the option to opt out of any data collection.
Anonymize PII: Businesses should make sure any PII is remove before it's processed by ChatGPT. This ensures that customer privacy is protected and reduces the risk of compliance violations.
Private AI's recently launched Privacy Layer for ChatGPT, PrivateGPT, is a secure alternative so businesses can still leverage all the benefits of LLMs without worrying about ChatGPT privacy concerns. 
With PrivateGPT, only necessary information gets shared with the chatbot. PrivateGPT automatically anonymizes over 50 types of PII before it gets sent through ChatGPT. The response is then re-identified so the end user has the same user experience without putting personal information at risk. Entities can be turned on or off to allow enough context to be sent through to OpenAI to receive a useful response. If we send the same prompt from the previous example through our PrivateGPT solution, here's the outcome: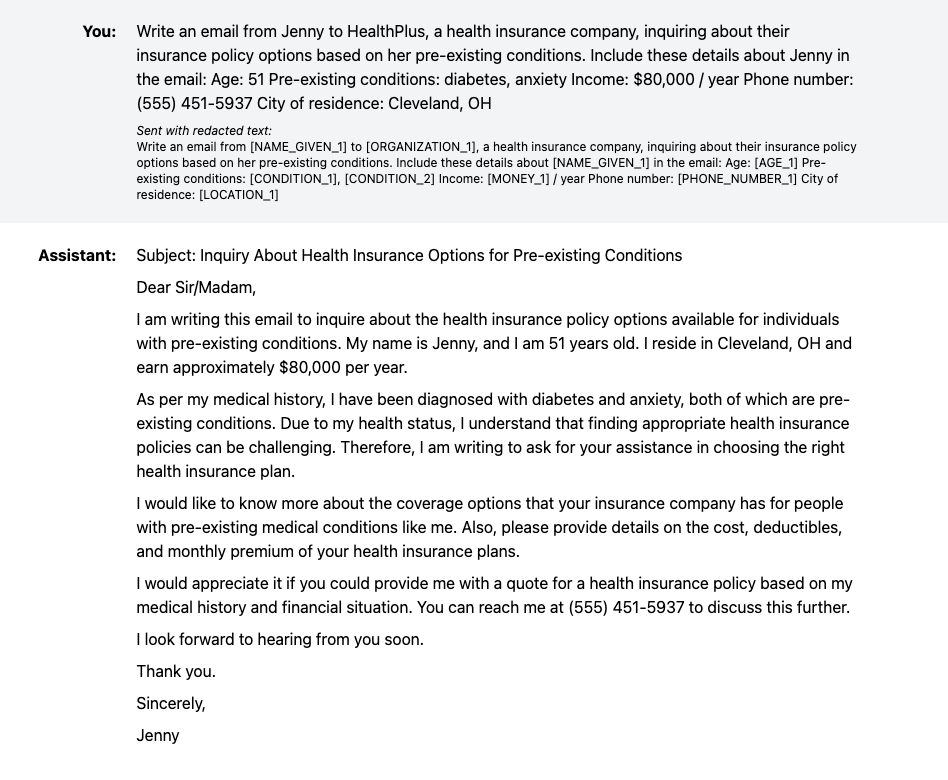 As you can see, the prompt sent to ChatGPT anonymizes the PII present, but the output still remains the same. Same results, without compromising customer or employee privacy!
Conclusion
ChatGPT has become a valuable tool for businesses looking to improve customer experience and streamline their processes. However, between data breaches and full country bans, ChatGPT privacy has been a point of concern for all users, particularly regarding the sharing of PII. 
To ensure compliance and protect customer privacy, businesses should provide employees with proper data privacy training, obtain consent from customers where relevant, and anonymize all possible PII before processing it through ChatGPT. 
Private AI's new privacy layer for ChatGPT, PrivateGPT, offers a solution to these concerns by automatically anonymizing PII before sending it to ChatGPT, allowing businesses to leverage the tool without worrying about privacy issues. 
With the combination of internal best practices and the use of privacy-focused solutions like PrivateGPT, companies can safely use ChatGPT to improve their operations and enhance their customers' experiences.
Try PrivateGPT today: