In recent years, the emergence of artificial intelligence (AI) and machine learning technologies has opened up a world of possibilities for various industries, including the insurance sector. ChatGPT, a state-of-the-art AI language model developed by OpenAI, stands at the forefront of these innovations. By harnessing the capabilities of ChatGPT, insurance companies can transform their operations, streamline processes, and enhance customer experiences. This AI model, equipped with natural language processing skills, can engage in human-like conversations, making it an invaluable tool for claims processing, customer support, policy recommendations, and much more. 
The implementation of ChatGPT and similar AI models can significantly reduce manual tasks, expedite processes, and provide data-driven insights, enabling the insurance industry to adapt and thrive in a rapidly evolving digital landscape. In this article, we explore the myriad of ways in which ChatGPT can be leveraged to benefit the insurance industry, while also addressing the potential challenges and considerations associated with its adoption.
Opportunities
Claims Processing and Automation: Assist in the initial claims intake process by gathering necessary information from claimants. Automate certain components of claims validation, expediting the settlement process.
Customer Support: Answer frequently asked questions related to policy details, premium payments, coverage limits, etc. Help customers navigate through the policy purchase or renewal process.
Policy Recommendations: Based on user input, suggest appropriate insurance products tailored to individual needs. Offer comparisons between different policies to help customers make informed decisions.
Fraud Detection: Analyze patterns and anomalies in claims data to flag potentially fraudulent claims for further investigation.
Underwriting Assistance: Collect necessary data from applicants and offer preliminary assessments. Use predictive modeling to assist human underwriters in determining risks.
Sales and Marketing: Engage potential customers through interactive and personalized marketing campaigns. Gather insights on customer preferences and behavior to tailor marketing strategies.
Premium Payment Reminders: Send automated reminders for policy renewals and premium due dates. Assist customers in setting up auto-pay or navigating the payment portal.
Document Review and Explanation: Help customers understand complex policy documents, terms, conditions, and any legal jargon.
Data Analysis: Analyze vast amounts of data to predict industry trends, assess risks, and determine pricing models. Offer insights on potential areas of expansion or product development.
Chatbots for Agents and Brokers: Provide instant information to agents and brokers about policy details, commission structures, and client histories. Assist in training new agents by simulating customer interactions.
Regulatory Compliance: Help insurers stay updated with the constantly evolving regulatory environment by providing information on changes in real-time. Assist in ensuring that all processes and documentation are compliant with regulatory standards.
Feedback and Survey Collection: Automate the collection of customer feedback post-claim settlement or after purchasing a policy. Analyze feedback to improve services and products.
Challenges and Considerations for the Insurance Industry:
Accuracy: A mistake in underwriting, claims processing, or any other insurance function can have financial implications. Ensuring AI systems are accurate and have human oversight is crucial.
Ethical Considerations: AI systems should be transparent, avoid biases, and always put the best interests of the customer first.
Regulatory Challenges: The insurance industry is heavily regulated. Any AI deployment needs to consider the regulatory implications and requirements.
Human Touch: While automation can streamline many processes, the human touch is often essential in insurance, especially in complex cases or sensitive situations like claim denials.
Data Privacy and Security: Insurers handle sensitive personal and financial data. It's vital to ensure AI systems are secure and comply with data protection regulations.
Here is an example of how ChatGPT's efficiency, combined with PrivateGPT's privacy layer, can be safely leveraged to facilitate administrative tasks in the insurance industry: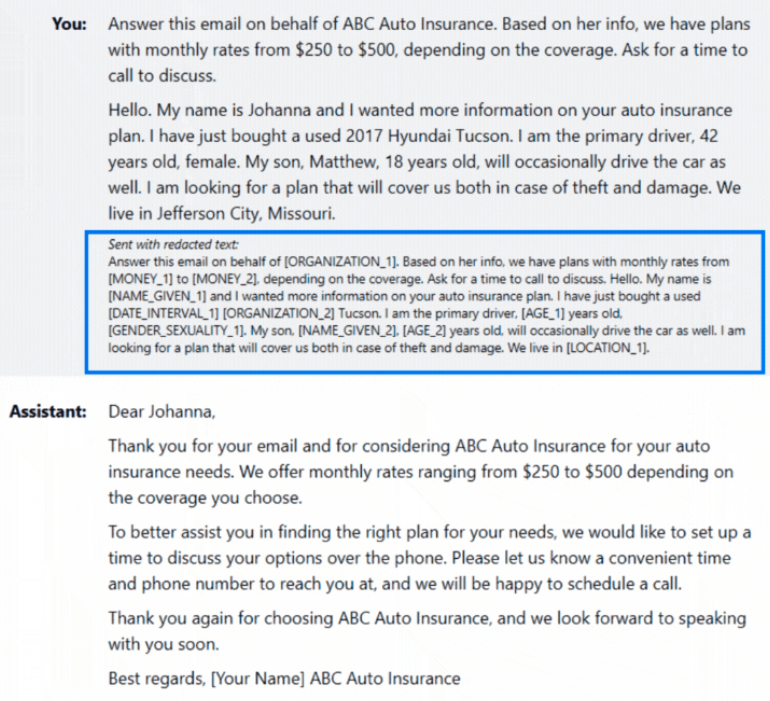 As you can see, PrivateGPT offers a feature that redacts health data before it is shared with ChatGPT, providing an additional layer of security. The response is then re-identified before being returned to the user, ensuring a seamless user experience without compromising privacy. By adopting these proactive steps, service providers can address compliance issues, reduce risks, and enhance patient confidence in AI-driven healthcare applications.
Get started with PrivateGPT today: